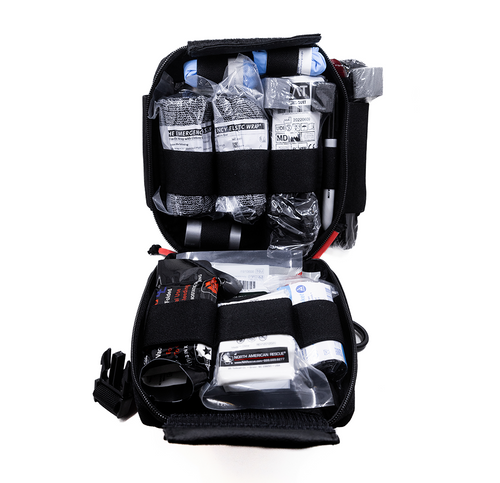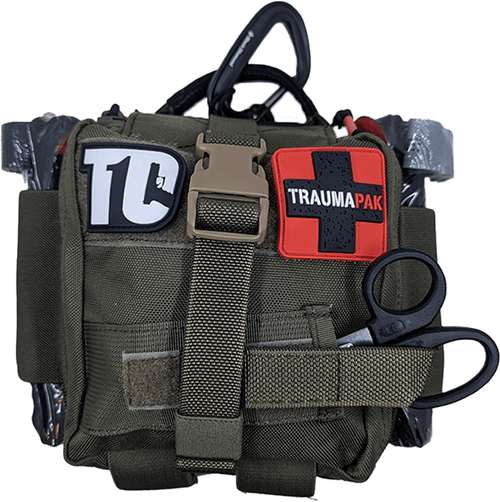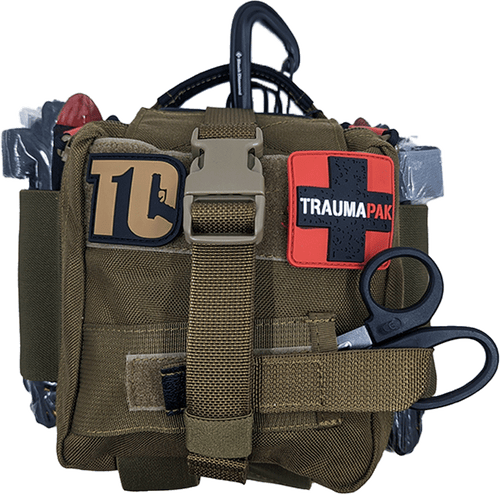 T1C RANGE TRAUMAPAK
The Tier 1 Range TraumaPAK is designed to treat multiple casualties. This is the ultimate TraumaPAK to take to the range, keep in your vehicle, or with your kit. It is all about speed, access, and function!
The exclusive T1C RangeTraumaPAK Includes:
Rip-Away Range TraumaPAK

1 Climbing-Rated Carabiner

2x CAT Gen 7 Tourniquets

2x Elastic Pressure Wraps

12' Combat Gauze Z-Fold QuickClot

Trauma Shears

2x Sets of Medical Gloves

2x Compressed Wound Packing Gauze

Combo Pack Chest Seals

2x NAR Pressure Bandage

Hypothermia Blanket

5x Burn Cream and Bandaids

Mini Duct Tape

Black Sharpie

Instructional Card
Built from the ground up around the TECC guidelines with both civilians and first responders in mind. This extremely durable TraumaPAK is made with 1000 Danier Cordura Fabric and is extremely resistant to stains and abrasions. This is a "rip away" TraumaPAK, It can be mounted on any molle compatible system and ripped away when needed or used in a mounted position. The top of the bag has an innovative nonslip padded handle that instantly opens the entire TraumaPAK when pulled down.
The Range also includes 2 universal TQ holders on the sides of the bag for quick access without having to open the bag. The bottom of the Range has 2 large elastic velcro loops to attach a drag device like webbing. The Front of the bag has a trauma sheers compartment with a velcro closure for quick access. The zipper is a water-resistant YKK zipper and it includes both a hi-viz paracord shrink-wrapped in red tubing and a pair of subdued black zipper pulls.
---