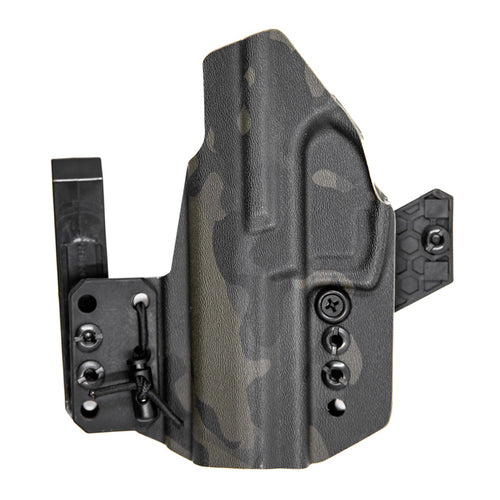 XIPHOS ELITE
 The XIPHOS ELITE is designed to accomplish the best level of concealability and comfort in a gun-only appendix platform. Our signature Multi-Axis flex center allows two important things to happen. First, it makes it possible for the concealment wing to do its job by pressing the gun handle into your body. This makes for less printing! Second, it allows the holster to conform to your movement. This creates a more comfortable and consistent concealed carry experience.
We also understand that the Multi-Axis flex center isn't for everyone. So we made the Xiphos Elite platform modular. Now you can move the Flexible wing-side clip in three locations to make this holster our most adjustable one yet.
Tight spread- We added a mounting spot just opposite the concealment claw for those who really liked the smaller platform of the Xiphos V2. But now it's even better! It has a slight angle which aids in the effectiveness of the concealment claw and stacks.
Medium spread- This gets you a wider, more secure platform without the flex. It's also stepped back to aid, even more in the effectiveness of the concealment claw and stack.
Flexible wing- This is the natural form this holster is meant to be in. You get the Muti-Axis flex center, and all its benefits.
The Xiphos Elite comes with all the features and benefits that you would expect from one of our Elite series holsters. Plus all the high-functioning design attributes you expect from any Tier 1 holster.
Strategic gusseting for the inherently weak part of a holster
T1 re-holster ramp
More efficient and easier retention adjustment
Shaped specifically to fit the contour of the pelvic area
Comes optic and suppressor height sight ready
 - Non-Light Bearing Holsters Will Have Concealment Wing
- Light Bearing Holsters Will Have Concealment Claw
---