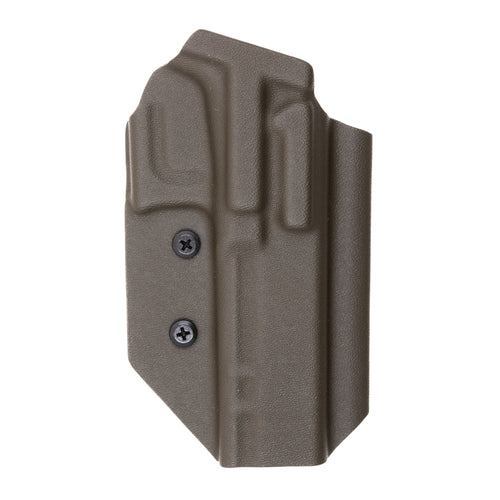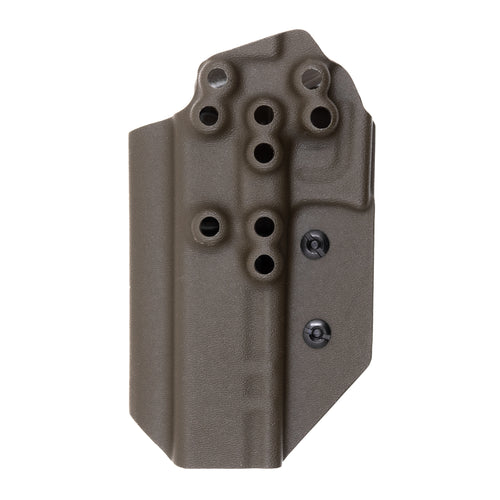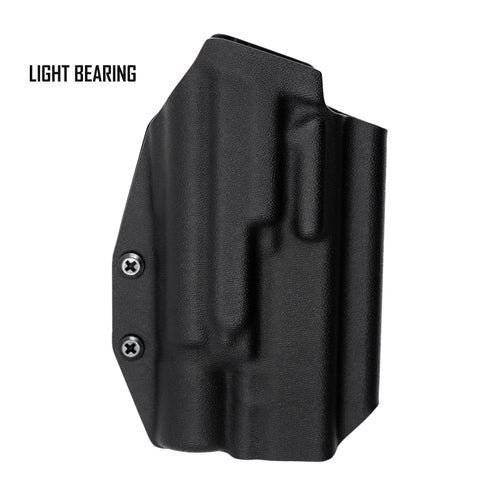 OPTIO V2
We are still moving all our weapon and weapon/light configurations over to the Optio V2. So if you can't find your setup, please check our Optio.
- READY TO ACCEPT MOST SAFARILAND & G-CODE MOUNTING SOLUTIONS
The original Optio was our first attempt at a quality Outside Waist Band (OWB) holster, and we were pretty happy with it. But as we do here at Tier 1 Concealed, we continued to innovate and perfect any and every aspect of our products that we can.
Through countless hours of R&D and loads of feedback from our customers, we are excited to bring you the Optio V2.
The Optio V2 is a complete redesign that keeps the best parts of the original, none of the flaws, and some great new features that make this a truly exciting holster.

-Fully adjustable retention while maintaining toughness and durability.
-Now fully open-ended to essentially remove the problem of casings getting stuck in your holster.
-Precision vacuum formed for better retention and aesthetics.
-More Ergonomical draw stroke for a faster, more effective, and consistent draw.
-Aesthetic redesign for an overall better-looking holster.
-A more efficient design, with less Kydex, giving you a much more manageable, and less encumbered experience.
-All Optio V2's are compatible with optics and suppressor height sights.
 Safariland products cannot be shipped internationally.
We are transitioning from the original Optio as fast as we can so model and light combos are limited. But original Optio still has a very large selection in the meantime.
---